Imaginative merchandise is a way for companies to push the boundaries and create something that people want to talk about- whether they hate it or love it.
To celebrate the 50th anniversary of the Quarter Pounder, McDonald's released several pieces of burger-themed merchandise items, including calendars, T-shirts, and stickers. On top of that, they also released a six-pack of scented candles that correspond to the six ingredients in the Quarter Pounder: beef, cheese, ketchup, onion, pickles, and sesame seed bun.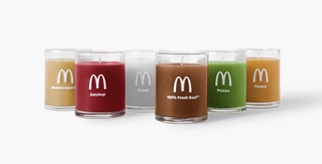 The merchandise was sold on the McDonald's Quarter Pounder Fan Club website. All of the items, aside from the calendar (including the Couples Quarter Pounder Mittens), are currently sold out.
This is not the only time that a fast-food restaurant has launched seemingly absurd merchandise. KFC and Crocs collaborated to release a pair of shoes that feature the time-honored KFC bucket design, complete with two chicken-scented Jibbitz™ on top. The finger lickin' good crocs made their debut during New York Fashion Week and are set to hit the Crocs website sometime this Spring.
Other highly publicized fast food products from the past include Saucony's collaboration with Dunkin' Donuts to create a running shoe for the Boston Marathon, a Hidden Valley ranch dressing fountain, and Burger King's "Flame-Grilled" perfume.
Imaginative merchandise serves as a delicious way to establish greater brand loyalty, create buzz on social media, and to get people excited about your brand and hungry for more. I don't know about you, but if Taco Bell ever comes out with Triple Layer Nachos merchandise, I'll be first in line.