Achieving success as a social media marketer is easier when you have access to the right tools.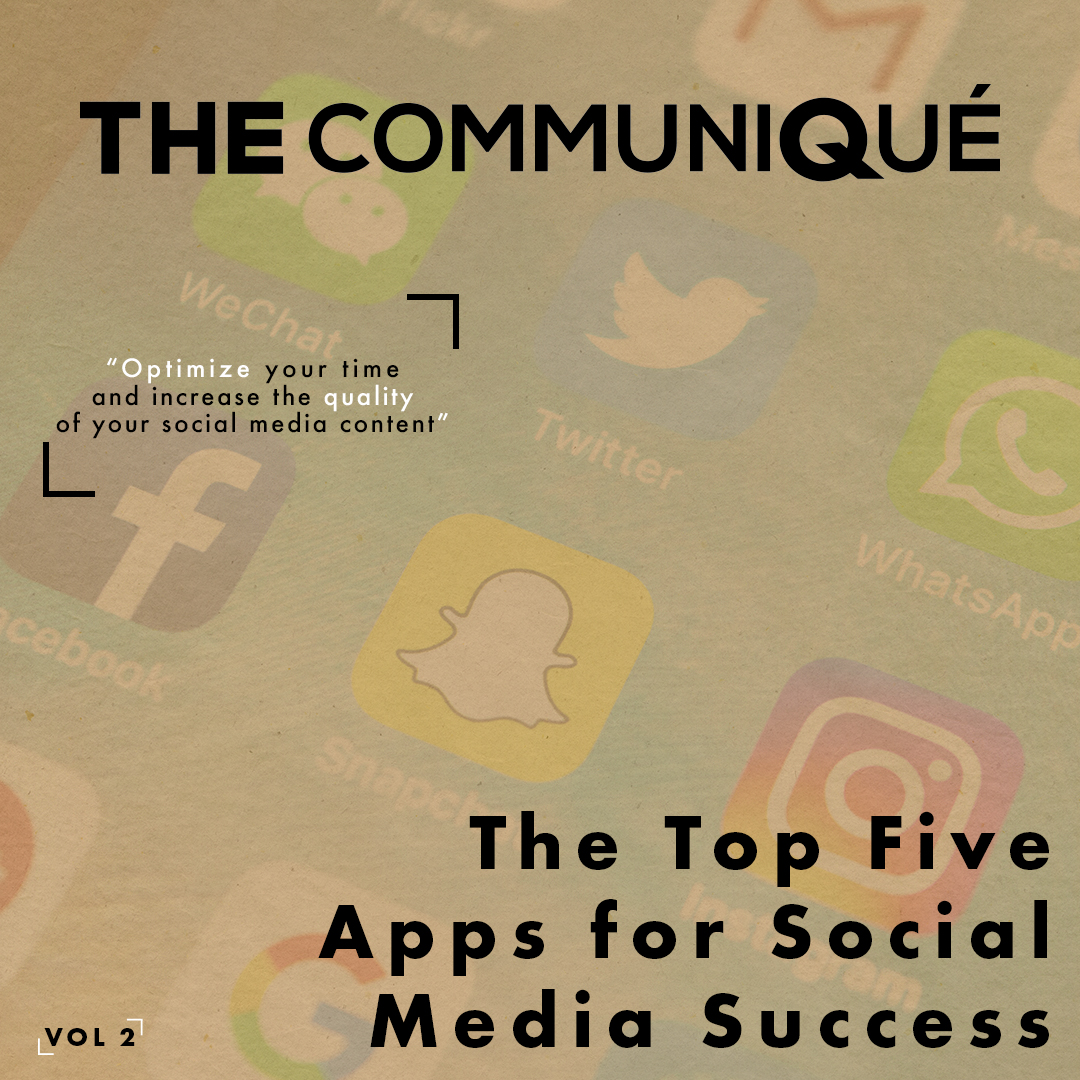 In a competitive landscape that is always changing, it is important to take all the help you can get from online applications to optimize your time and increase the quality of your social media content. Whether you are a social media marketer, like myself, or simply want to step up your Instagram game, I'm sharing five apps I use on a daily basis at the agency.
1. Sprout Social – There are a variety of social media management tools to choose from like; Buffer, Zoho Social and Hootsuite, but our social team believes Sprout Social outshines the rest. Sprout allows us to schedule social media content across multiple platforms so we don't have to manually post on a daily basis. This gives us more time to dabble with Sprout's reporting capabilities which gives us in-depth metrics about account performance, competitiors and the ads we produce. Sprout does come at a cost, but if you are wanting to save time to put towards a powerful strategy, this is the tool for you.
2. UNUM – A close friend of mine introduced this app to me for personal use and it has allowed me to meticulously craft my Instagram layout. After linking your account, UNUM lets you upload photos to view on your layout before you decide to make them Instagram official. Rearranging your photos before posting them is a good way to coordinate colors, establish a constistent theme and communicate the proper story. In addition, UNUM will take data from your post history and provide you with the best times to post and hashtags to maximize your reach. Best part about it all? UNUM is free in the IOS app store.
3. ImgPlay – Converting file formats (MP4, MOV, GIF) is a necessary task before posting video content. GIFS, (Graphics Interchange Format) which are a collection of animated still images, are very popular, but unfortunately incompatable with Facebook and Instagram. The way that I get around this roadblock is by using ImgPlay which allows me to easily convert a GIF into a looping video that can be posted on Facebook and Instagram. Paired with ImgPlay's ability to edit and cut videos to my specifications, it is my go-to app when creating video content for social media. ImgPlay is free to use, but in order to get rid of the branded watermark you will have to pay $4.99.
4. Behance – Our graphic designer, Martin Bautista, introduced Behance to me when I first started out and anytime I run into a creative roadblock, I go to Behance for inspiration. Behance is a place where designers, creatives and artists showcase their projects to others in the community. For me, Behance is a place where I can go to see what design trends are floating around in this day and age. It is important to stay on top of trends when it comes to social media because people gravitiate to what's new. I highly recommend downloading the free app to explore projects and themes in areas that interest you, but prepare to be entertained.
5. Canva – This list would not be complete without Canva. Filled with thousands of stock templates, graphics and backgrounds, Canva is a user-friendly design app that gives you all the tools you need to whip up a creative social media post on the go. For those who don't have a background in graphic design, but want to make quick and easy graphics, this is the tool for you. I enjoy using Canva for small projects, but when it comes to content for ad campaigns our designer creates original work to stay different from the rest of the crowd. Canva has many free assets you can use, but there are some paid templates and designs you can purchase in the app as well.
Now that the tools are laid out, hopefully social media success won't feel so far away. No promises you will be Instafamous, but you will be Facebook Official.
Post away!