The 3rd Annual Ragan Social Media Conference was jam-packed with experts in the industry. Here are four more highlights from the conference you don't want to miss. And if you feel as strongly as we do that these are great tips, feel free to share!
Sandra Fathi, Affect @sandrafathi
Now is the time to tell you how important analytics tools are. In order to create content and messages that work, you need to measure what matters; understand the business of your business. Here is a process to use for every single campaign you run in the future.
Identify KPIs
Develop campaigns with measurement in mind
Build your own dashboard: 6step approach
Measure
Track
Trip
Analyze
Tweak
Repeat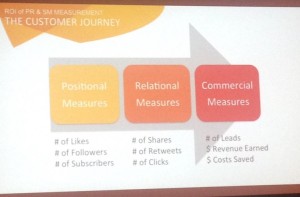 Key Takeaway:
Tweet: Identify KPIs and measure what matters for all #socialmedia campaigns you launch. @Sandrafathi @QuillinLV
Jill Hirz, LinkedIn @_JillJones
LinkedIn has become so much more than a recruitment tool – though that's how the majority of companies are using the platform. With new features like in-platform blogging, industry-specific groups, top 500 influencers and more it has become a place both companies and employees can build their brand.
Go through this profile checklist and make sure you are searchable:
Profile photo
Cover photo
Title (more descriptive than just job title)
Summary (40+ words)
Jobs and descriptions
Key Takeaway:
Tweet: Give your employees an outlined set of @LinkedIn profile tips and best practices! @_JillJones @Quillin
Andrea Leitch, National Geographic @AndreaLeitch
Some companies, like National Geographic, have photo resources that make it much easier to adapt to a more visual world. But what can you do? The key here is user generated content. Ask your community to share photos and videos with you and pay it forward by sharing that content across your social media platforms.
While milestones like company anniversaries might be great fodder for press releases, it doesn't do much for social media fans. You have to find creative ways to celebrate these more traditional milestones – perhaps with a month-long photo campaign or a video blog series.
Key Takeaway:
Tweet: User generated content (UGC) is king. Your loyal audience can be a great resource! @AndreaLeitch @QuillinLV
Ashley Brown, Spredfast @iamashbrown
Let's face it. The traditional ways of doing PR and advertising have shifted. PR professionals are now working with copywriters, photographers, videographers – there is substantial structural change in the business of PR and social media.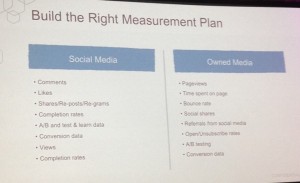 A / B test every social message you put money behind.
Get ready to pay to play.
Key Takeaway: Tweet: To create great content, you have to think with your emotions, give useful information and be brave. @iamashbrown @QuillinLV