Are you already dreading the political advertisements that are coming your way this year? As the 2020 election approaches, social media networks are making significant changes to their political ad policies. Here's everything you need to know!
NETWORKS BANNING POLITICAL ADS
In November 2019, Twitter informed the world they will ban all political ads, including any reference of a political candidate, party, election or legislation.
Twitter CEO Jack Dorsey said, "We believe political message reach should be earned, not bought." Most 2020 presidential candidates have massive Twitter followings, so if they wanted to organically spread their message across the platform to their followers, they're free to do so.
LinkedIn and Bing, which are both owned by Microsoft, are also banning political advertisements. Their policy defines a political ad as, "advocating for or against a particular candidate or ballot proposition or otherwise intended to influence an election outcome."
TikTok, the new Chinese-owned video app, recently shared in a blog post they won't allow paid ads to promote or oppose a candidate because it doesn't align with its overall mission to inspire creativity and build joy.
Pinterest took a similar angle as TikTok. Last year, spokeswoman Jamie Favazza said, "We want to create a positive, welcoming environment for our Pinners and political campaign ads are divisive by nature." They're standing by their policy to ban political ads across the platform in 2020.
If you're looking to completely steer clear of all things political the next few months these social media platforms are most likely your best bet.
NETWORKS ALLOWING ADS WITH RESTRICTIONS
This year, Google adjusted its policy stating it will prohibit manipulated media and false claims that could undermine the democratic process. They will also begin limiting their political election audience targeting strictly to categories such as age, gender, and one's postal code.
Previously, political advertisers were able to target ads based upon public voter records, political affiliations and preferences. YouTube, one of Google's subsidiaries as of 2006, will also adhere to the updated policies with the exception of contextual targeting, which allows advertisers to display ads to users watching a specific video.
Google also plans to increase ad transparency and provide in-ad disclosures, which will show users who paid for the ad, how much was spent and even how they were targeted for the ad.
Snapchat allows election-related advocacy and issue ads unless they are deemed misleading, deceptive or violate the terms of service. Ads related to a candidate's "personal life" will also be prohibited.
Twitch, a newer video game vlogging platform does not allow political advertising, however, their guidelines state, "You may share political opinions; participate in political activity; provide links to a political committee's official website, etc.," which is a good explanation as to why President Donald Trump and Senator Bernie Sanders have recently joined the platform.
NETWORKS WITH NO RESTRICTIONS
The outlier across all social networks is Facebook. CEO Mark Zuckerberg believes the platform was established upon the ideology of free speech and they will not restrict political ads or sensor ads with misinformation.
Zuckerberg stated, "Political ads are an important part of voice – especially for local candidates, up-and-coming challengers and advocacy groups that may not get much media attention otherwise. Banning political ads favors incumbents and whoever the media covers."
In response to Facebook's stance, Democratic Senator and presidential candidate, Elizabeth Warren created a Facebook ad making false accusations that Zuckerberg is endorsing President Donald Trump for re-election.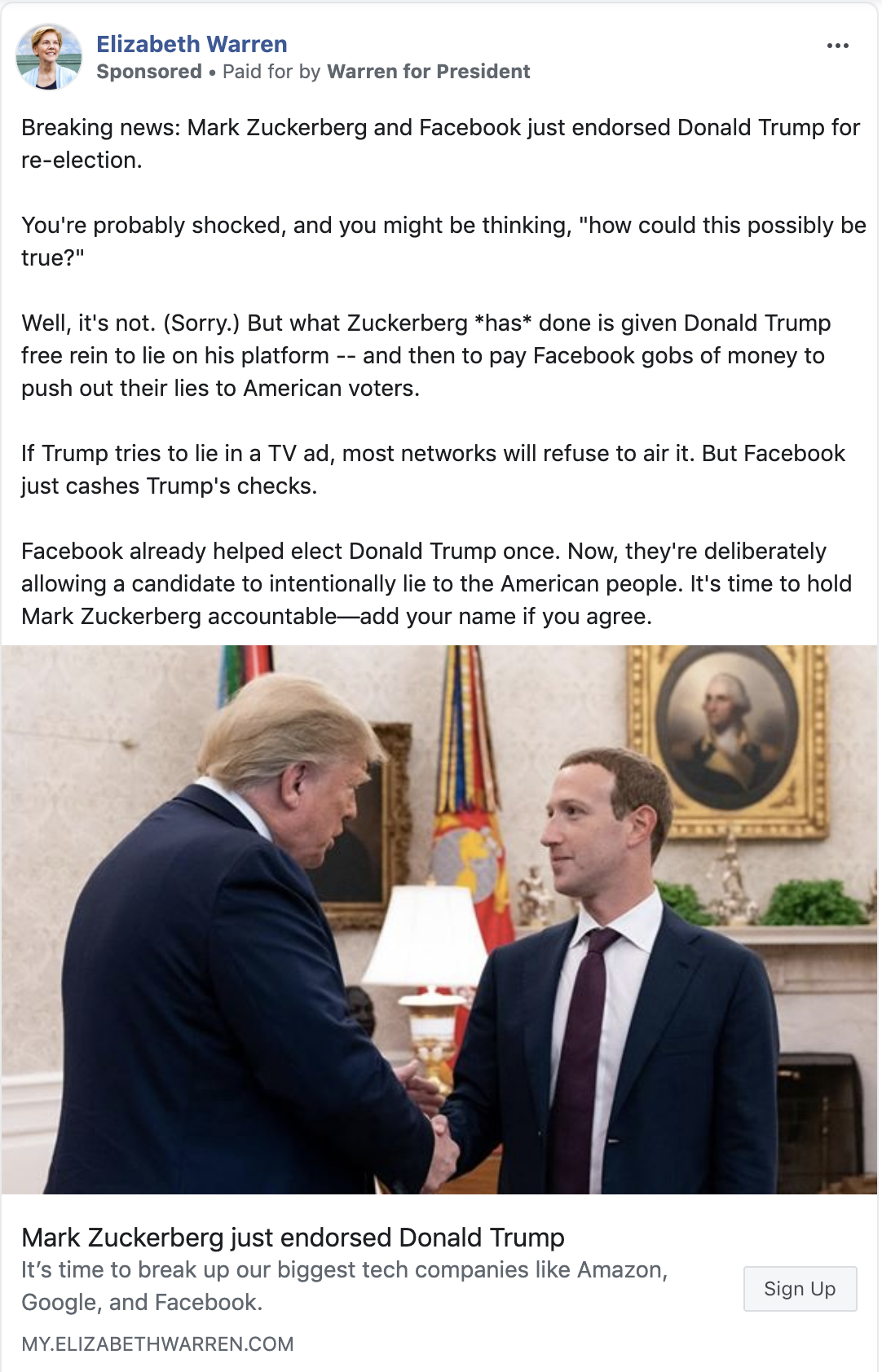 Recently, Facebook executives stated they will be making some adjustments in regard to political ads in 2020, including allowing users to turn off specific ad-targeting tools on their profiles.
Social media is a breeding ground for debates and no matter which platform you're on or what your political beliefs are, it is going to be extremely difficult to distance yourself from political advertising. There are nearly 223 million Americans using social media, according to convinceandconvert.com, and as an advertiser, it's incredibly difficult to ignore such a large and effective channel. Nonetheless, advertisers owe it to the American people to convey a truthful and authentic message regardless of the topic, service or product.