Tis the season of the porch pirate! With the holiday season quickly approaching, millions of customers take advantage of the ease of online shopping, however, others see an opportunity to take what isn't theirs.
With this outbreak spreading across America, customers are turning to technology to keep their packages safe. A recent study performed in 2019 by Parks Associates suggested that 25-percent of U.S. households with broadband would buy a smart video doorbell this year. With booming numbers like these, how could a nationwide brand not take advantage of this new avenue to get in front of customers?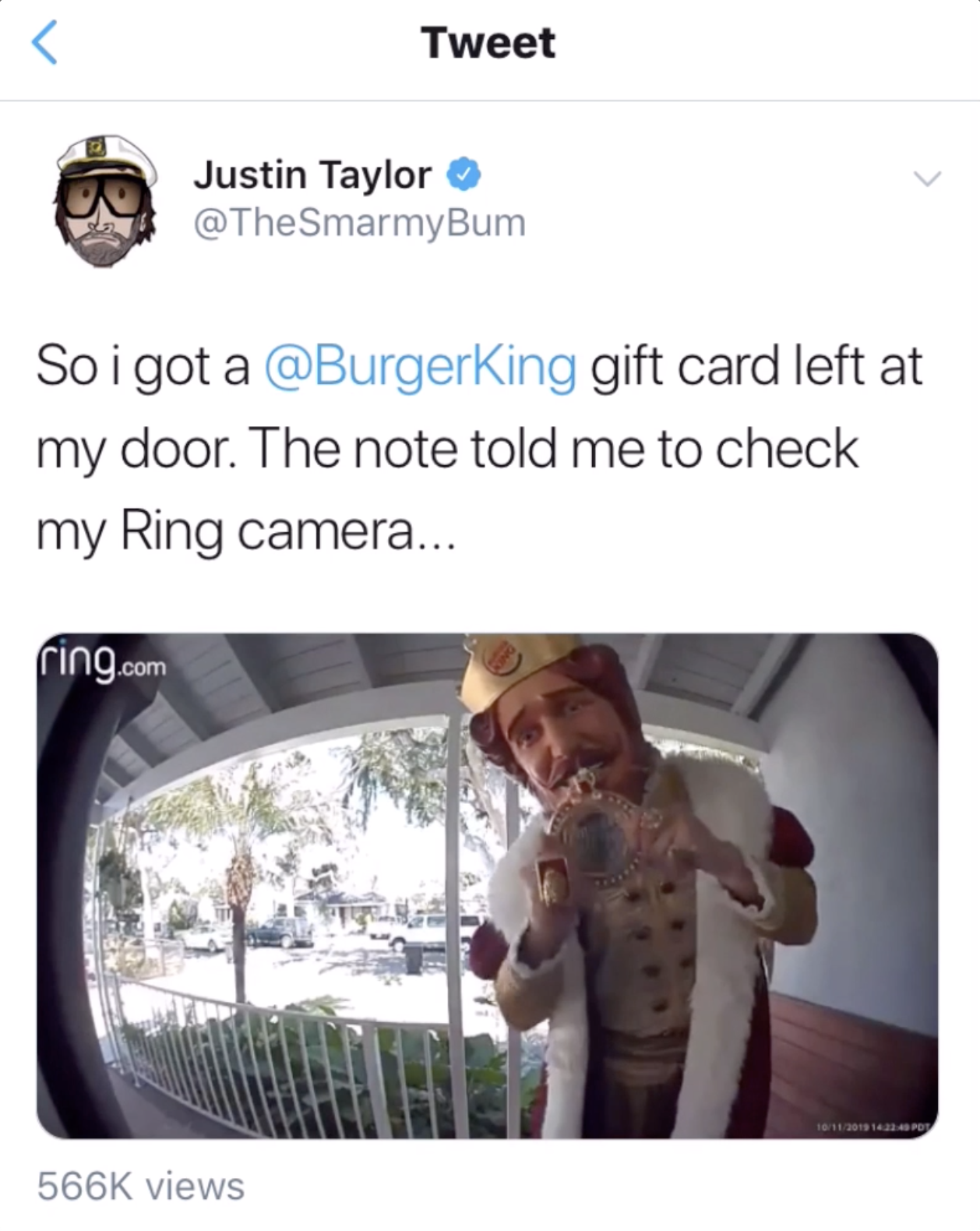 In October, Burger King offered free delivery on orders of $15 or more through their partnership with Uber Eats, and instead of advertising in-stores, they sent the King straight to their consumers. With Ring doorbells in the perfect position for a viral campaign, the King visited Los Angeles homes with Burger King gift cards in hand and a note telling homeowners to check their doorbell cameras.
Not only did this ingenious idea turn these popular Ring doorbells into personalized marketing devices, but it essentially cost Burger King close to nothing! Through a little research and a deep dive on a Twitter thread, each gift card had a price tag of only $5, but it was the Ring recordings that brought smiles to families across the city. Later in the month, Burger King utilized footage from the viral campaign and created a 30-second advertisement reminding customers about the lucrative Uber Eats promotion.
This campaign is a great reminder that you don't need a huge advertising budget or a new product to have an impactful reach and get your message across, just a creative idea and an open mind about how to reach your intended market.