In times of tragedy, many take to social media finding solace by connecting with others and writing or talking about how they feel. In today's day and age, online platforms are an unbelievable tool that can be used for healing in a time of need.
The world seemed to pause late Sunday morning as news broke that Kobe Bryant, daughter Gianna and seven other passengers died in a helicopter crash in Calabasas, Calif.
At first, like everyone else, I didn't want to believe the news, and I scoured Twitter looking for a reputable source to believe. Within minutes, Kobe was trending and the world began pouring out their emotions. For many, Kobe Bryant was their hero and although I was never a Los Angeles Lakers fan growing up, he was absolutely incredible to watch and helped expand the sport of basketball far beyond any other player that came before him.
It is reasons like these why I love the world of social media. Like most, I was only able to watch Kobe on the basketball court and admire his relentless work ethic from afar; however, on Sunday, I couldn't put down my phone as I read story after story and tweet after tweet about how amazing Kobe Bryant was as a player, person and father.
From a brand perspective, it's important to realize that some events around the world are so impactful, it's best to put scheduled campaigns and content on pause. Social media experts, Matthew Kobach and Vincenzo Landino made excellent remarks in regard to the tragedy.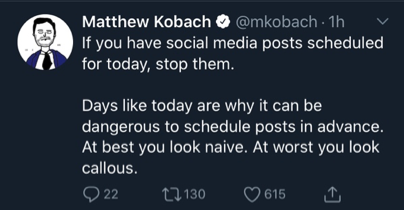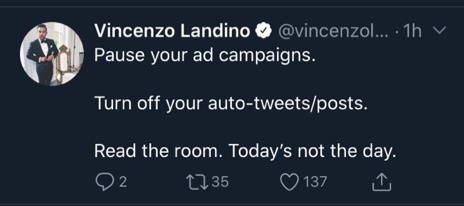 If you're interested in reading Matthew's thread, click here. Social media is without a doubt a necessity for brands, but you must use it cautiously and when the time is right. Just like trends and viral movements, timing is everything and if you're running an ad that can be seen as insensitive to some, things can get very bad for your brand.
Planters, who recently killed off their spokesman, Mr. Peanut, leading up to Super Bowl LIV, released they will be pausing the campaign and "evaluate next steps through a lens of sensitivity to those impacted by this tragedy."
I'll be extremely curious to watch Nike's next move, as Kobe was an ambassador for the brand throughout his career. After releasing a statement late Sunday, questions began circling whether or not they'll choose to monetize the tragedy in any way. However, Nike being Nike, I would expect an amazing video campaign that perfectly memorializes his impact on the world without coming off as insensitive.
As a Millennial, a question I often receive is, "How do you get your news?" and typically older generations laugh when I say social media. I believe social media is turning into one of the fastest and most authentic and honest outlets for news. In minutes, I was able to get live updates from reputable sources, while listening to celebrities, athletes, coaches, sports fans and others talk about how important Kobe Bryant was to them.
Never underestimate the power of social media and how it can bring the world together in a time where many can feel lost or alone. #RIPMamba