Mesquite Gaming
Consumer Awareness
COVID-19 Social Media Solutions
Objective
When COVID-19 hit and the world came to a halt, so did marketing budgets. Our client, Mesquite Gaming, was forced to close their resort properties for an indefinite period of time. As a result of the forced closure, all social media ad campaigns were paused, and we were instructed to focus solely on organic social media performance.
How do you increase followers, engagements, and impressions when your client's operations are on pause? At Quillin, we sat down to completely rethink Mesquite Gaming's social media strategy amidst a global pandemic.
Strategy
With events, concerts, dining, and gambling operations all on hold, social media calendars inevitably look a little bleak. We had to think outside the box and create posts that would not only provide us valuable insight, but spark engagements.
Located in the smaller, commuter city of Mesquite, NV, we knew we had an advantage due to their devout customer loyalty. Community engagement was key, and to keep them coming back for more, we had to look outside of the hotel operations and show the property's commitment to the city of Mesquite. We focused on nearby places to visit such as hiking trails, city and national parks, and more.
Tactics
In addition to the regional posts, we looked to evoke the feeling of nostalgia. Mesquite holds amazing events throughout the year and reminding customers of their incredible past Mesquite trips with flashbacks, throwbacks and relevant national holidays, we were able to learn a lot about audience preferences while maintaining steady engagement levels. Puzzles, reviews, "Complete the Sentence" questions, I spy, bingo posts and more, were all fun to create and test on the platforms!
Finally, we wanted to hear what our customers wanted to see more of at the CasaBlanca Resort and Virgin River Hotel. Although it wasn't an ideal situation to be in, this was an excellent opportunity to take a step back with all of our clients and reevaluate our strategy to better serve the online community.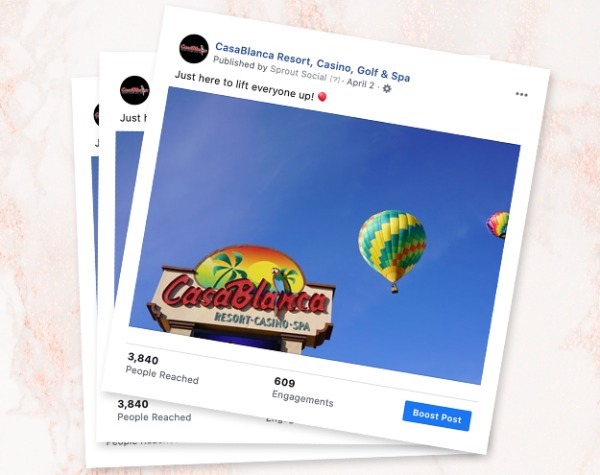 Results
Total Audience Growth: 1,000+ Total Impressions: 1.7 million Total Engagements: 70,000+
Organic results include Facebook, Twitter and Instagram (March 17, 2020 – June 30, 2020)