Taco Bell Cantina
Consumer Awareness
Live mas with Taco Bell Cantina on the Vegas Strip
Objective
In November 2016, a Taco Bell Cantina opened on the Las Vegas Strip beside Planet Hollywood as its 7,000th restaurant in the world. It would quickly become the flagship location for the franchise where the company's biggest and most important events are now held.
Taco Bell enlisted Quillin Advertising, Public Relations, and Social Media to plan, coordinate and manage the very first invitation-only executive party at the Strip Cantina. It had to be unique and special to impress the 150+ VIP's in attendance and demonstrate the restaurant's added potential for entertaining customers. Features included 24/7 operation, alcoholic beverage service, full Taco Bell menu with tapas-style serving, and a wedding chapel.
Strategy
Located in the heart of the Entertainment Capital of the World, the bar for "special and unique" is set very high. Our strategy was to incorporate all of the Las Vegas flair that guests would expect, while including unique amenities that would surprise.
Tactics
Basic features we secured included Taco Bell-purple carpets at arrival, step and repeat banners featuring key logos of sponsor companies attending, beaded draperies, photography, floral arrangements, check-in operations with data collection, logo wristbands, DJ's, and security.
Unique features we arranged included showgirls, celebrity impersonators, ice sculptures, a Bubble Lounge, a Whiskey Lounge, models in mirrored outfits, and models with video lampshades on their heads displaying sponsor logos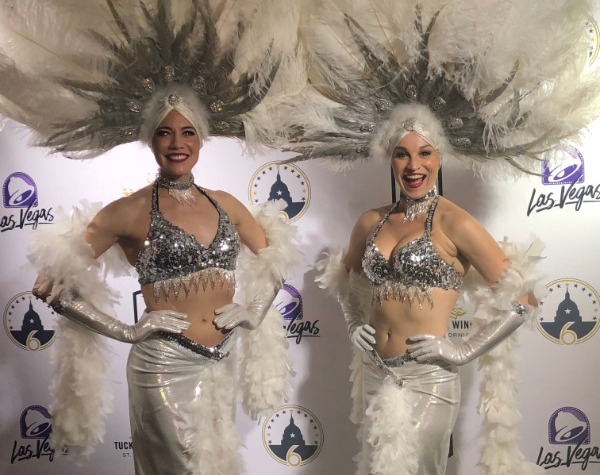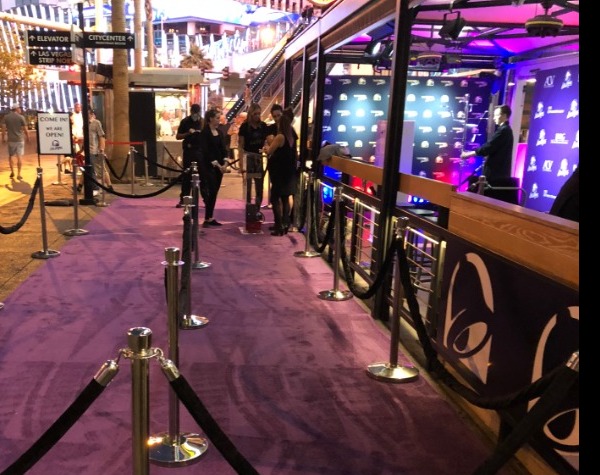 Results
Once invited guests began arriving at 10 pm, the excitement inside and outside of the Cantina grew quickly. The party's atmosphere and entertainment were mesmerizing to visitors. The energy and sounds of the room swept Taco Bell's VIP's into the moment. While food and beverage service remained constant, our entertainment came in waves – each one topping the previous attraction.
Word of the fun spread fast and the restaurant had exceeded capacity by midnight. We began admitting newcomers only as guests chose to leave. When the party officially ended at 2 am, Taco Bell executives were ecstatic with the outcome. Their happiness resulted in our agency being invited to produce 11 more events over the next three years.
Yo Quiero Taco Bell, indeed.