KLAS
Grass Roots Marketing
Make A Ruckus At Red Rock
Objective
Create awareness and consumer preference for 8 News Now and the new morning anchor team – Cale Ramaker and Shauna Khorrami. Targets included advertising, guerrilla marketing, PR and social media.
Strategy
Innovative grassroots advertising techniques along with community partnership activations were key in increasing consumer awareness. Public Relations and social media strategies to support the advertising and community partnerships were utilized to continue the conversations in media and online.
Tactics
Visually captivating bus wraps featuring the new morning news team were installed on nine local buses which traveled highly trafficked routes in Southern Nevada and Henderson. These buses culminated in a bus parade at Red Rock which was photographed and aired on the newscast. In addition, we partnered up with local coffee shop, Grouchy John's, for branding and integration efforts into the community. Grouchy John's coffee truck was also wrapped in the image and likeness of new morning team which was present at all First Fridays. We recommended a branded photo booth with green screen technology that was activated at community events such as First Fridays, Wheel of Fortune tapings, Bite of Las Vegas, Pet-a-palooza, etc. A photo contest was coordinated on Facebook to increase engagement online about bus wraps spotted in the neighborhood.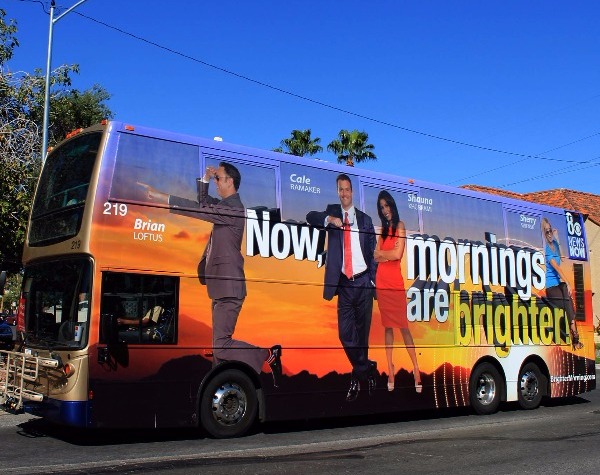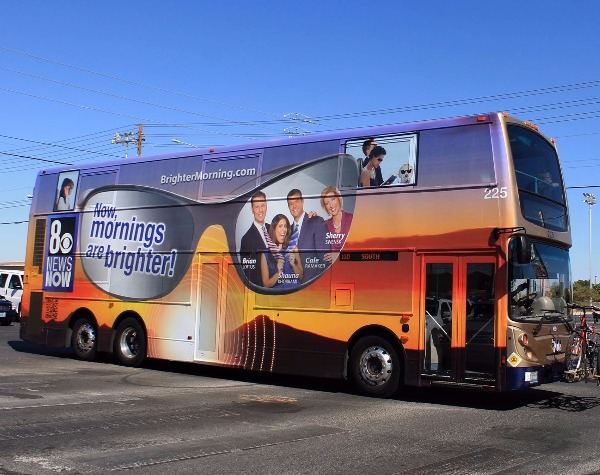 Results
Total impressions for the duration of the bus wraps (8 months) was 197,265,600. In addition, we secured more than 4 million PR impressions with a national pickup in AdWeek and local publications including Vegas Inc. and Las Vegas Sun. Adweek: 4M Vegas Inc.: 23K Las Vegas Sun: 346K